Providing evaluation, facilitation and training for organizations of all sizes
Evaluation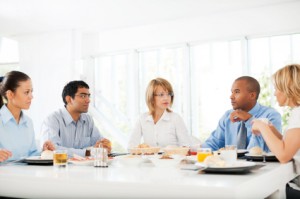 QED provides excellent, timely, useful, client-centered research and program evaluation. We make use of a wide range of evaluation methods to answer our clients' important questions, help them make decisions and improve their programs. We have worked with a diverse array of public and private-sector clients including foundations, nonprofit agencies, universities and schools. Many of our clients have been clients for years; read what they have to say about our services.
Evaluation is focused on improving an organization's effectiveness. It's about asking important questions about the work an organization does, and finding accurate and useful information with which to answer those questions.
Evaluation is:
disciplined, systematic, and data-based
information about programs
used to make decisions
focused on improving effectiveness
An effective evaluation is a means, not an end – providing the organization, staff and board members with the tools to move toward a more effective and successful path.
"I would highly recommend QED for their evaluation processes and products as well as their attention to detail and careful planning with clientele."

Lynette Flage, Ph.D.
NDSU Extension Service Northeast District Director
North Dakota State University
QED's evaluation approach provides you and your organization with the information you need to make informed decisions about future strategies. QED can train your staff to collect meaningful data in a cost effective way, to make use of the data you already have, and to use that information to make better decisions about your programs and services. Or our professionals can handle the evaluation for you. Either way, we give you the right information you need to make proper judgments and the right decisions for the future of your organization.
Facilitation
For boards, staff members, public policy groups and others challenged with getting along and getting things done in an effective manner, facilitation can make all the difference between success and failure. A talented group facilitator can help you plan, lead and energize your next meeting, retreat or conference.
Some meetings are crucial to your organization's future, and a professional group facilitator can help you create a new level of cooperation that you thought might not be possible. Think of QED as your partner, helping you get the most out of board members, staff, and volunteers.
Facilitation is designed to:
Help organizations define new goals
Develop strategic plans
Launch new products
Improve/resolve issues
Create an action plan that can realistically be implemented
Professional facilitation has helped many organizations achieve superior results through better meetings. To discuss how QED can be of assistance to your organization, contact Diane Morehouse at 715.309.4150 or email diane@qedeval.com.
Training
QED can provide training to board members, staff and other public policy groups in understanding and making informed judgments about agency outcomes, evaluation and reporting. We can provide materials, technical assistance and training for agencies on information gathering, data analysis and reporting. QED has received excellent ratings for topic knowledge, organization and preparation and ability to present information clearly.
We provide training in:
Outcomes-based planning
Outcomes based data collection
Data analysis and reporting
Board development and accountability
Evaluation methods
QED conducts training for nonprofit boards of directors on roles, responsibilities and governance models. These training sessions provide newfound understanding of complex roles, and a set of tools for developing policies, adding true value to their organizations.
For more information call 715.309.4150 or email diane@qedeval.com.